DESIGNED FOR POINT-OF-CARE
Imagine you could have a truly mobile head CT in your ICU that could be quickly and easily rolled up to your patient's bedside for a fast scan, giving you real time updates on your patient's condition.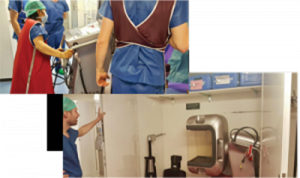 Turns on a dime.
Less than 4′ footprint with zero degree turning.
Maneuvers tight spaces with easy storage.
Line voltage ~120v plugs into standard wall outlet with battery backup.
Full 360-degree rotation, more data = better data.
Effective bore diameter clears shoulders & Xoran head holders.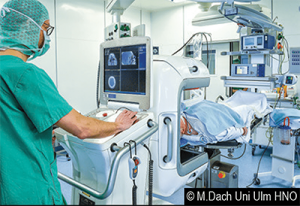 IGS updates for accuracy at skull base
Precision in stent positioning
Clarity in dissection of ethmoid partitions
Thorough removal of bony fragments
Verified completeness before closing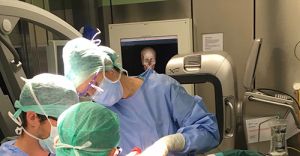 Scans < 1 minute
Submillimeter resolution (0.1 mm)
Ultra-low radiation dose
Syncs with navigation
Auto link to PACS and cloud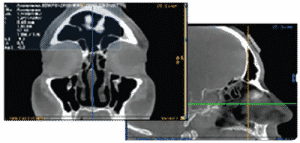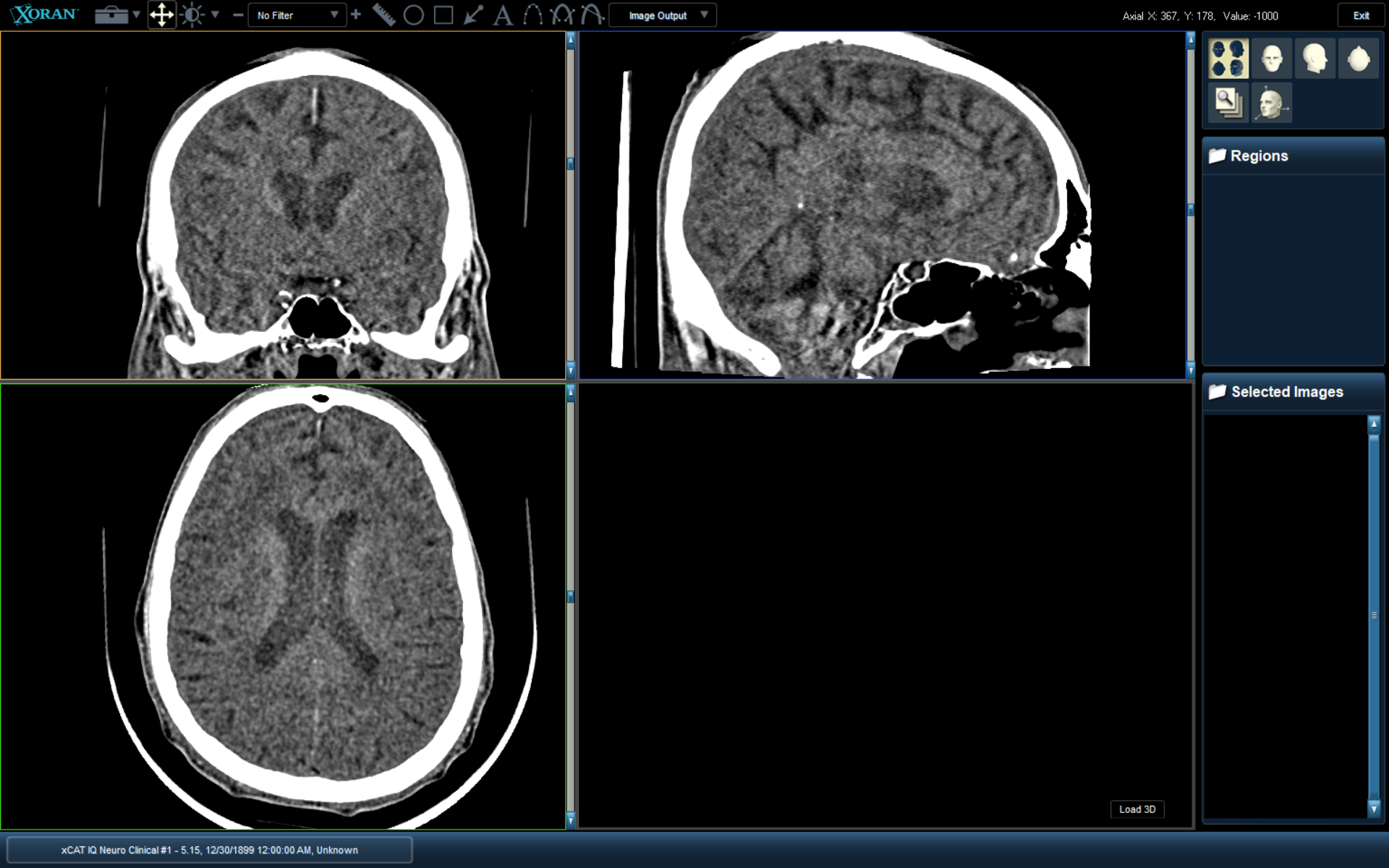 PORTABLE. PRECISE. PRICELESS.
Truly mobile. Xoran's ultra-compact, mobile, cone beam CT scanner is designed for the neurosurgical suite and neuro ICU. Providing real-time CT scans of the brain and applicable for bone window imaging.
For successful surgical interventions…image-quality matters and a full-body CT won't fit in your OR. For those moments when having a clear picture would make a difference—xCAT is designed to meet the specific needs of surgical specialists who require high-definition images when time is of the essence.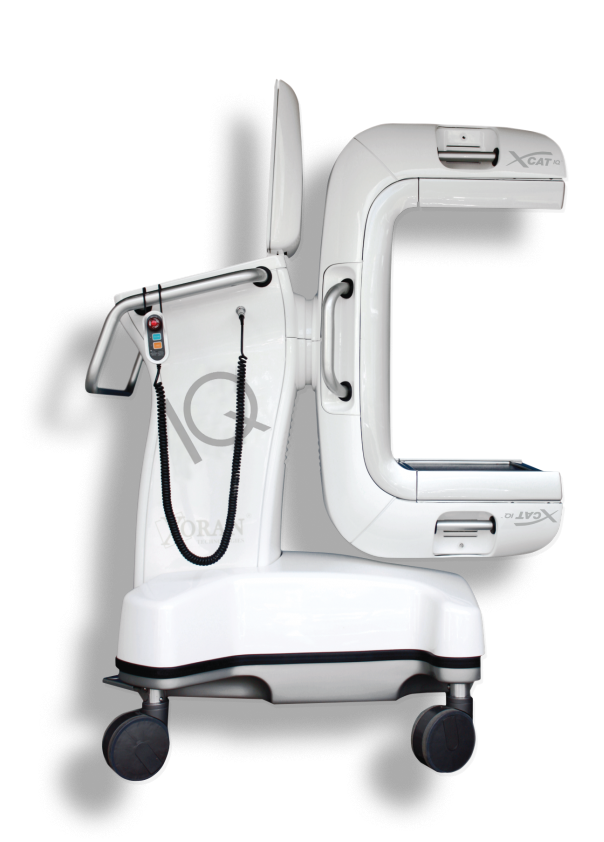 YOUR WINGMAN IN THE OR & ICU
For those moments when having a clear picture would make a difference—xCAT is designed to meet the specific needs of surgical specialists who require high-definition bone images.
SPECIFICALLY DESIGNED TO FIT SEAMLESSLY INTO THE
OPERATING ROOM

AND

INTENSIVE CARE UNIT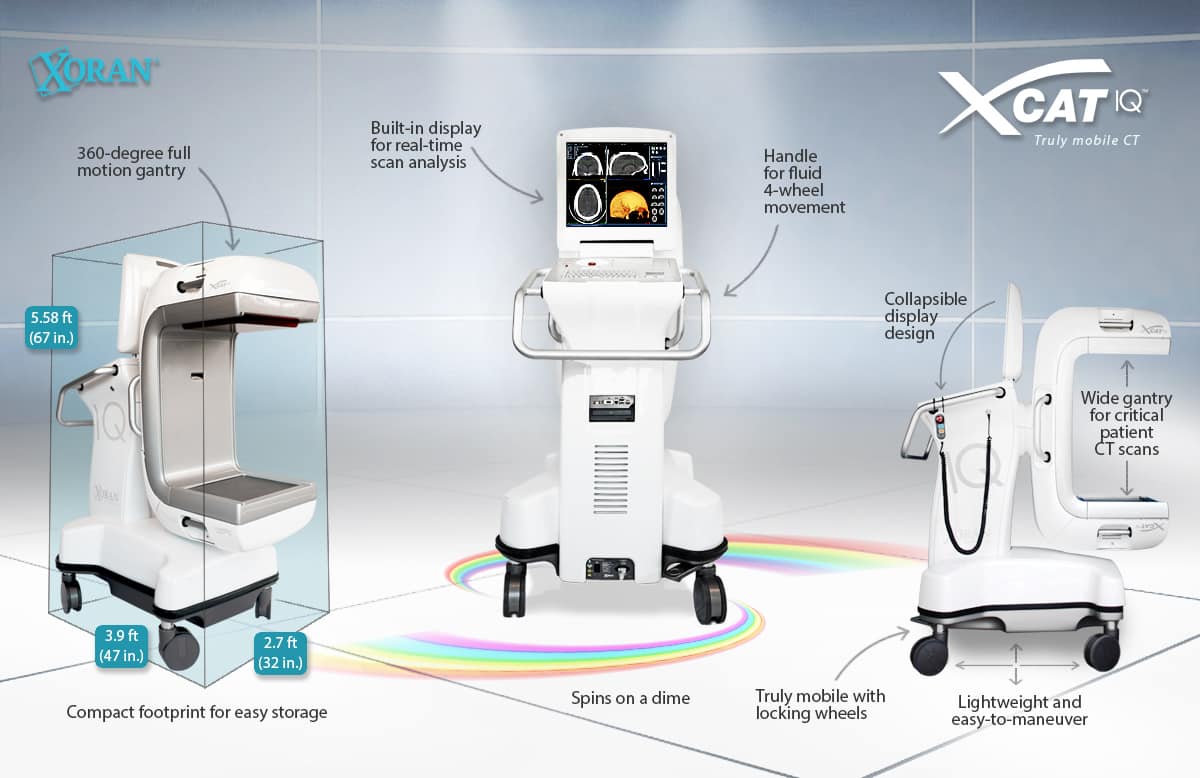 truly mobile CT scanner for brain imaging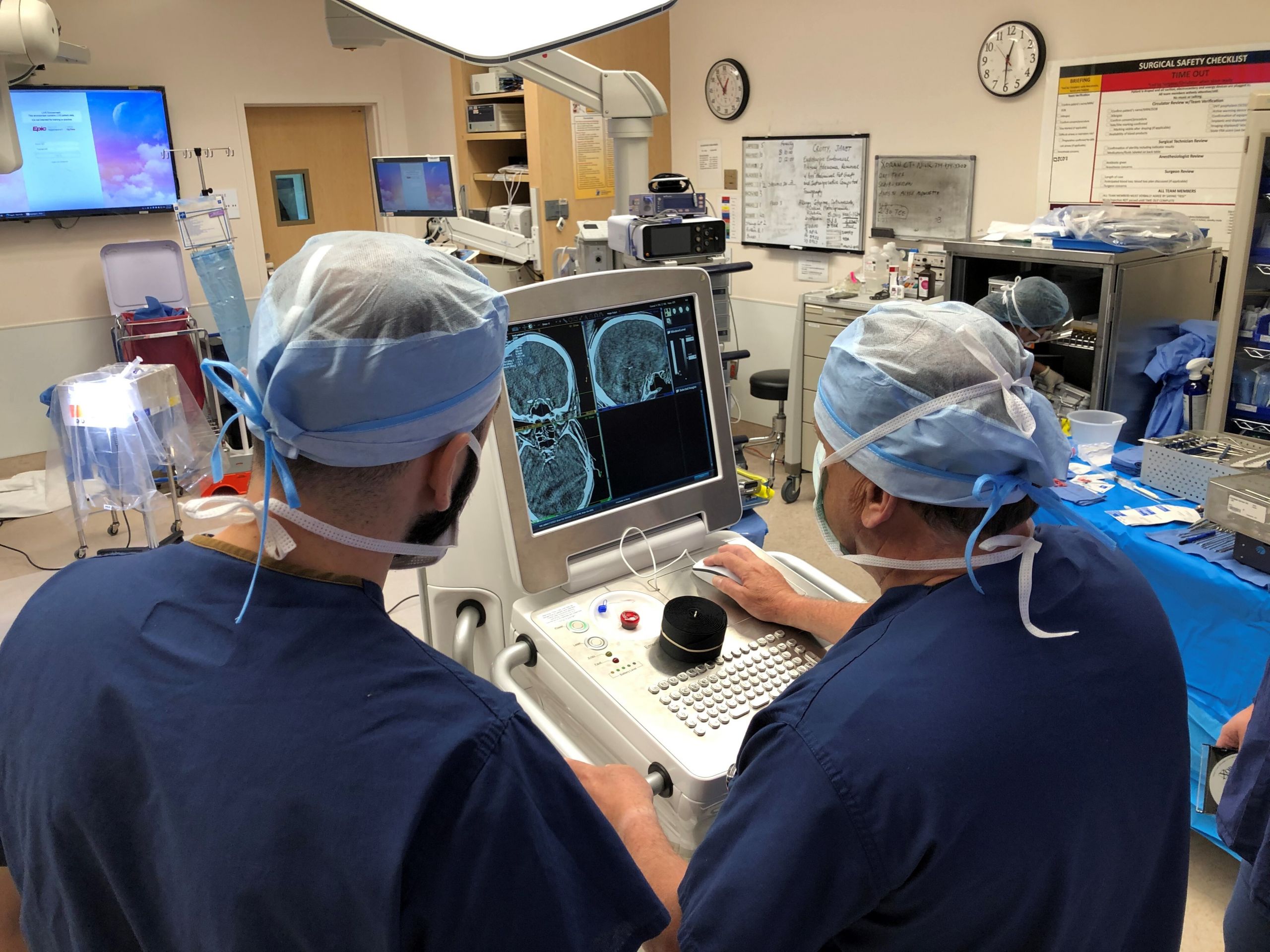 Xoran Partners With Pacific Neuroscience Institute (PNI)
Xoran Technologies announced a clinical study using xCAT IQ mobile imaging solution. In partnership with PNI, the study will examine the benefits associated with easily obtained CT imaging of the head at the point-of-care, instead of transporting the critical patient to a conventional scanner.
xCAT IQ is a mobile CT scanner that can be positioned in the operating room to acquire cranial images at the time of surgery.
WHAT COULD YOU DO WITH xCAT IQ?
xCAT IQ—Low Dose Large Bore

True 3-D Volume CT Exams

Easy-To-Maneuver Mobile Imaging
Evacuated Subdural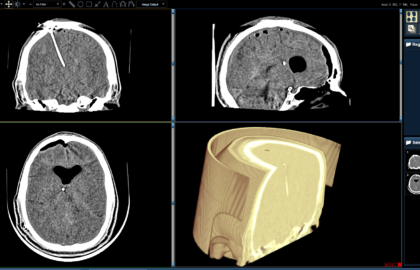 Posterior Fossa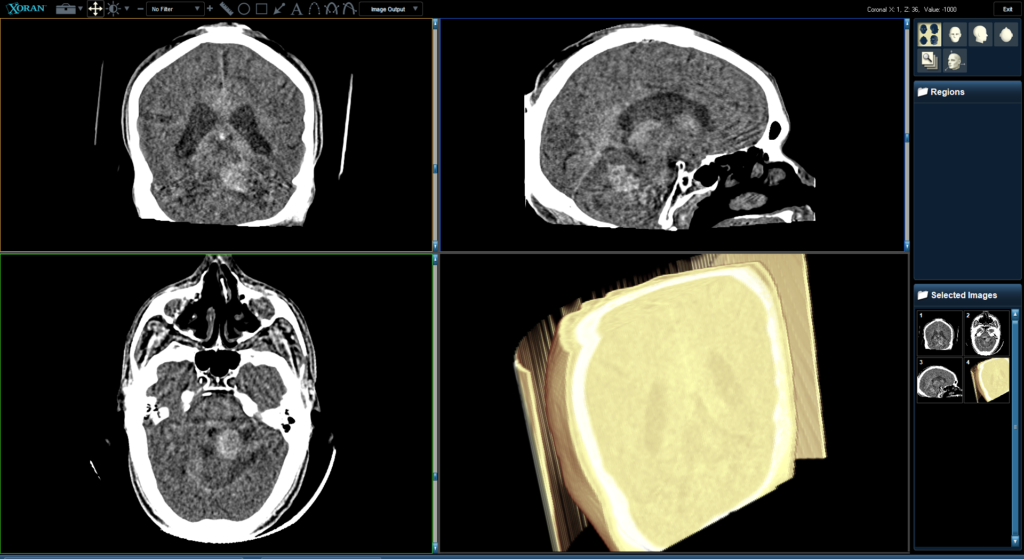 Resolving Intracerebral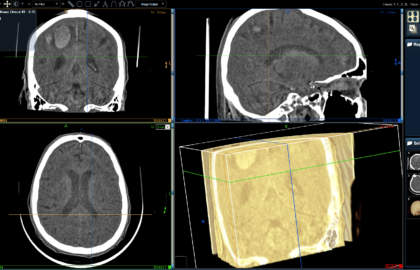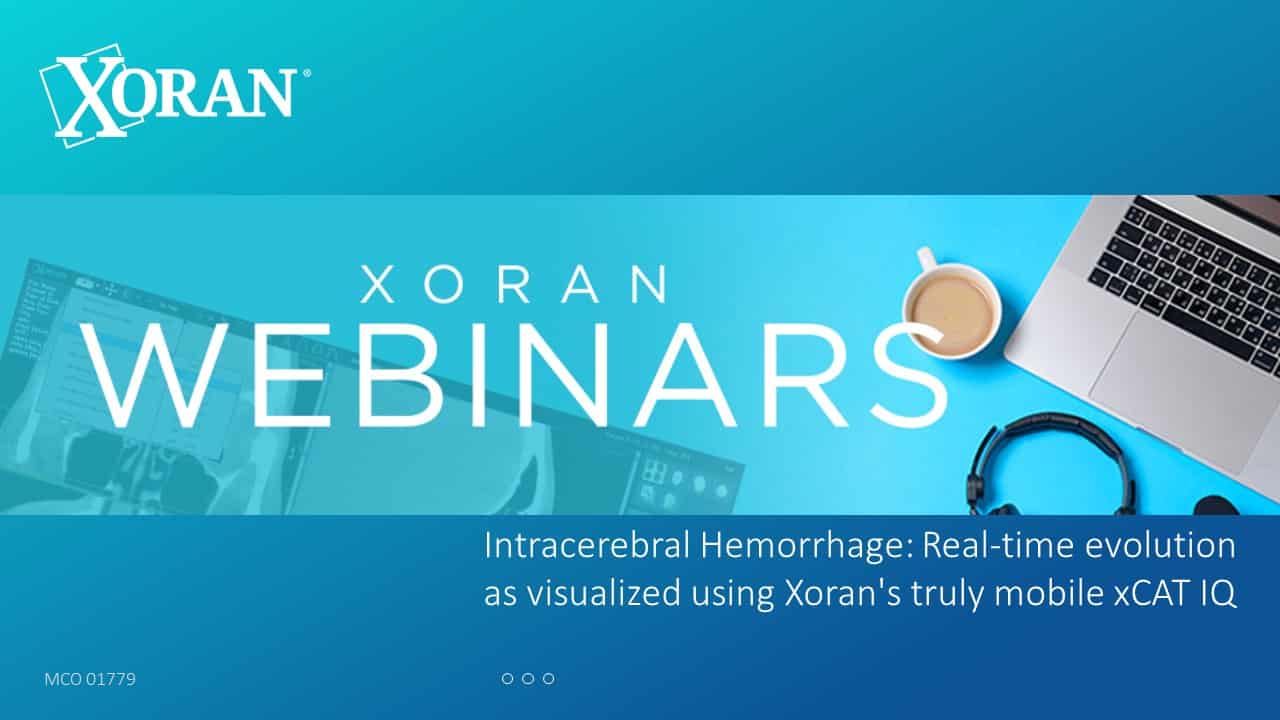 Neurosurgical Visualization
William Gormley, MD, MPH, MBA, Neurosurgery, presented "Intracerebral Hemorrhage: Real-Time Evolution as Visualized Using Xoran's Truly Mobile xCAT IQ". He led a session on the natural evolution of an intracerebral hemorrhage as visualized in real-time with Xoran's truly mobile xCAT IQ CT scanner. In addition, he reviewed both the errant and correct placement of an external ventricular drain (EVD) in the setting of treating hydrocephalus associated with intracerebral hemorrhage. Click below to watch the recorded webinar.
William B. Gormley
Interview, Ann Arbor, MI (2020)
MD, MPH, MBA, Neurosurgeon

Craig Williamson
Interview, Ann Arbor, MI, 2018
MD, Neurologist
"The portable scanner does have the advantage of faster acquisition time, because there is not that transport involved. So when there is an acute neurological change, and we want to know why, and when we suspect that it's due to the most common things that we see—new intracranial hemorrhage, new and worsening midline shift due to cerebral edema, new hydrocephalus—things that are relatively, readily visible on a CT scan, that's when we would use a portable CT scanner such as xCAT IQ."

James Palmer
Hospital of the University of Pennsylvania
MD FARS, Co-Director
"The ability to have a portable scanner for bone and soft tissue imaging that links to our image guided system in real-time is truly a game-changer. This is a demonstrable advance in the area of intraoperative imaging. It was a great opportunity to utilize the expanded features of the xCAT IQ."
We pride ourselves in delivering world-class customer service.