Xoran

TV

delivers customizable viewing for ENT and Allergy practices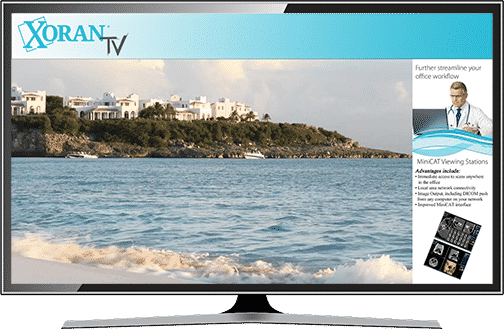 With XoranTV, your patients can enjoy a peaceful on-screen experience, removing the negative images and news common in regular television programming.
You control the content and messages displayed, whether it is important information or advertising for your practice.
XoranTV provides viewers with relaxing music and soothing scenery that aids in relieving stress while branding and promoting your practice.
Engage patients with interactive features such as trivia or interesting facts.
Use XoranTV as a marketing tool to promote treatments or products thereby allowing your practice to thrive.
Educate patients about relevant health news and personalize messages to patients and staff.
Place a private television channel customized specifically for your ENT and Allergy office.
increase revenue
advertise your products, services, and procedures
interact with patients and staff
display important information
control the content
make updates anytime
eliminate negative news and images
promote relaxation
engage patients during wait times
Contact us now for more information!