The popular course, Computer Aided Maxillofacial Surgery (with Human Anatomic Specimens) chaired by Bradley Strong, MD with co-chairpersons, Michael Grant, MD, PhD, FACS and Daniel Buchbinder, DMD, MD took place last weekend at the Center for Advanced Medical Learning and Simulation (CAMLS) in Tampa, Florida.
Saturday's Cadaver Lab Practical Exercise focused on Orbit and ZMC reconstruction with navigation and intraoperative CT.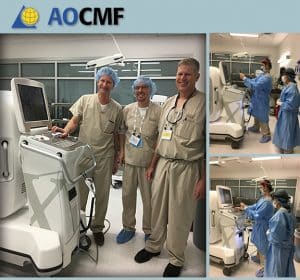 Xoran Customer Service Engineer, David Church, was on hand to assist in imaging the human specimens for this course using Xoran's truly mobile CT, xCAT IQ.
"xCAT IQ allows attendees to confirm the accuracy of the educational exercise by providing a real-time image updates to the surgical technique used," said Xoran President, David Sarment, DDS, MS.
The xCAT IQ was designed specifically for the intensive care unit and the operating room in hospitals. Because the xCAT IQ is highly maneuverable in tight spaces and easy-to-use, patients can be scanned directly at their point-of-care and would not have to be transported out of surgery or recovery to a remotely located radiology suite for an often-necessary CT scan.
With its small size, xCAT IQ can fit into existing neuro operating rooms and provide surgeons with a real time update on changes in the patient's anatomy. Because xCAT IQ provides soft and hard tissue imaging, it can also be used to assist in surgical completeness during cranio-maxillofacial cases, potentially improving outcomes.
To learn more about how xCAT IQ supports bone and brain imaging, call (800) 70-XORAN.