What is the Zoom ROI Tool?
The Region of Interest (ROI) reconstruction selection tool allows a user to select a reconstruction protocol, then draw the dimensions of a 3D cube that can be viewed from Axial, Coronal, and Sagittal views.
The user can also choose from a variety of reconstructed slice thicknesses, including:
0.3 mm
0.2 mm
0.1 mm, and…
0.07 mm
This is what the reconstructed image would look like on a MiniCAT Temporal Bone scan at 70 microns: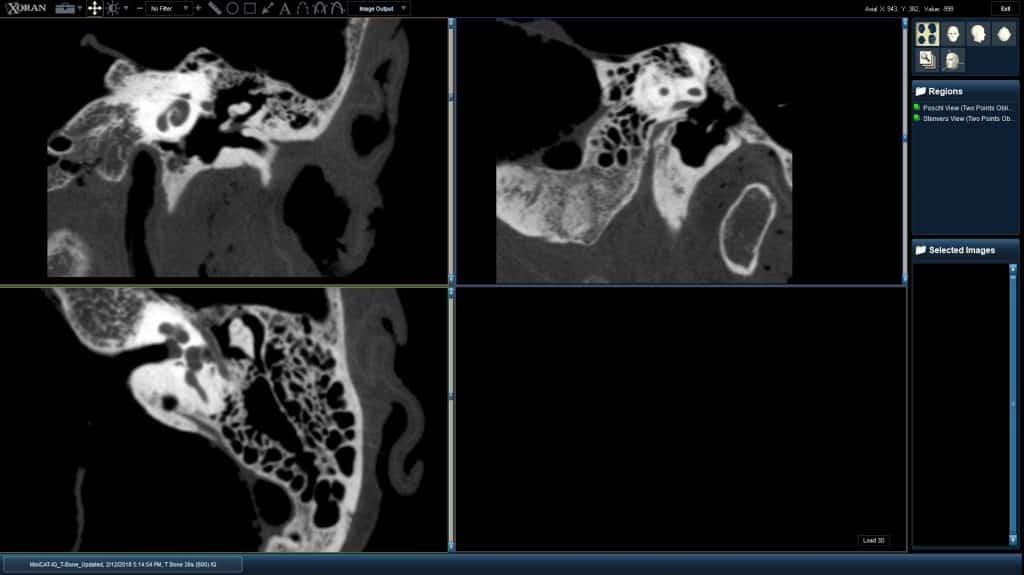 Xoran customers can continue to use the easy patient-positioning that Xoran is known for, and they can select the ROI tool in the Xoran software interface to view new and existing scans at even higher resolution—down to a specification-shattering 70 microns.
This means that there is no need to re-scan a patient or even spend any time repositioning a patient so you can get the area of interest that you want.
You simply select the slice thickness you want, then draw a "selection box" on the area you want reconstructed. The tool will work for any MiniCAT IQ temporal bone or sinus scan.
No need to rescan.
BONUS: The ROI tool is compatible with older MiniCAT and xCAT studies, meaning you can go back and review your scan with best-in-the-industry 70 micron resolution.*
Aside from new customers, the ROI tool is available for existing MiniCAT and xCAT customers**.
But what about the reconstruction time?
Xoran's new ROI tool allows users to significantly reduce reconstruction time because we reduce it to only the most relevant area at the best resolution possible.
*Compatible with MiniCAT IQ temporal bone protocol
**Call Xoran Customer Service to check if your system qualifies and to schedule your upgrade—800-70-XORAN.
Unlike other companies, Xoran Customer Service makes your software upgrade a seamless experience.
We don't mail you an upgrade CD and expect you to do the work.
We don't expect you to figure out how to upgrade your CT scanner software and leave you out-in-the-cold.
We ensure that your Xoran software is running on the latest software system, providing you the peace-of-mind that your CT images and your CT scanner is safe and secure.
Xoran understands the needs of the ENT and Allergy office. We will remotely upgrade your software and train you on your schedule—so that your office day remains uninterrupted.
Call Xoran Customer Service to find out whether you are eligible for the new software upgrade—800-70-XORAN, or 800-709-6726.
You Asked, We Listened & Delivered—Better and Faster Workflow
Xoran Software Engineers have worked tirelessly to improve your MiniCAT and xCAT software experience.
The Windows File Explorer is back in MiniCAT. Your IT person will thank you!
We took out the Xoran File Explorer, and put in the Windows File Explorer in Windows 10. This means that you can access your local and network data from a new MiniCAT workstation.
You have the same level of security, but your MiniCAT 5.8 Windows 10 software is easier to use. Tell your IT specialist to call 800-70-XORAN to get your upgrade to MiniCAT 5.8 software scheduled.***
Your MiniCAT Software Now Runs on Windows 10
Are you up-to-date on all your software patches?
Are you running older software that is susceptible to cyber attacks?
Xoran's new 5.8 software is now easier to use, as it runs on Windows 10—it works on a new MiniCAT and xCAT workstation.
Do you know what others are saying about Windows 7 vs. Windows 10?1
Windows 7 mainstream support ended on January 13, 2015.
Windows 7 sales for PCs with Windows preinstalled ended October 31, 2016.
Windows 7 extended support ends on January 14, 2020. That's less than two-years away!
Xoran made sure that your MiniCAT runs in FDA-cleared "Shell Mode," but have enabled you to have access to your Windows File Explorer nonetheless.
Xoran upgrades your MiniCAT software with Windows, ensuring that your operating system operates as fast as possible.***
1 Read more about Microsoft Windows at PCTechMag.com and ZDNet.com
*** Call in and ask us if your existing system can support this, not all systems can operate on Windows 10 unless you have new hardware.
Xoran's new Software 5.8—Here's what you need to know…
Are you thinking about purchasing a CT scanner?
Are you concerned about HIPAA Compliance?
Have you asked your CT sales person what operating system their CT runs on?
Xoran has your back—we make sure that you have improved workflow on the latest-and-greatest operating system, without sacrificing the safety and security of your MiniCAT and xCAT.
Want to upgrade?

Call the Xoran 800 number today—800-70-XORAN.