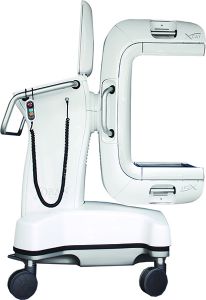 ANN ARBOR, Michigan, July 20, 2018 /PRNewswire/ — Xoran Technologies the pioneer and U.S. medical market leader in point-of-care CBCT since 2001, leverages its X-ray expertise in the LuminX series of digital radiography (DR) systems.
This month, Xoran is launching nationwide sales of its new LuminX DR suite of products. Xoran is exhibiting its point-of-care CBCT system—the portable xCAT, and its new suite of DR systems—LuminX, at the Association for Medical Imaging Management, AHRA 2018 Annual Meeting and Exposition, held July 22-25 in Orlando, Florida.
"Adding a full line of DR solutions to our imaging portfolio is an exciting step for Xoran," said Xoran CEO Misha Rakic. "We are looking forward to the market response to LuminX—flexible and affordable DR solutions with outstanding images, available in seconds."
Orthopedic offices, hospitals, urgent care facilities, and veterinary clinics will all benefit from the six highly configurable systems, which include the LuminX Overhead Robotic—a ceiling-suspended DR suite, which is available with fully motorized Auto-Positioning, Tracking, and Synchronization.
The same applies to the LuminX FMTS—Floor-Mounted Tube Stand, available in fixed or mobile patient tables, motorized or manual system positioning, and single or multiple detectors of various sizes.
The highly configurable LuminX U-Arm Auto and the LuminX Straight Arm are obvious choices for ultimate workflow, with ultra-small footprint and highly configurable options. Xoran also offers DR Retrofits—affordable analog-to-digital upgrades, along with LuminX software—fast, simple and universal, and Xoran360 web-based workflow software and PACS.
Xoran provides unsurpassed, white-glove customer service and high quality, reliable products that are user- and patient-friendly. With worldwide presence via international distributors and a dedicated U.S.-based sales, operations, and service teams, Xoran's well established reputation in CBCT can extend seamlessly into the broader X-ray market.
Dealers and distributors of X-ray and CT systems with long-established customer relationships in Urgent Care, Orthopedics, and Veterinary markets are encouraged to contact Xoran to find out more.
Xoran makes the complex simple.
© 2018 Xoran Technologies LLC
CONTACT
Paul Dykstra, Marketing & Communications Manager 734-418-5168
800-70-XORAN