With Xoran's latest 5.9 Software Release*, patient workflow with MiniCAT is easier than ever …
No more Daily Calibration
No more Daily QC
Streamlined Monthly Calibration and QC reporting
Just-in-Time Calibration
With Xoran's latest improvement—Just-in-Time Calibration, MiniCAT customers can remove Daily Calibration and Daily QC from their daily workflow.
Just-in-Time Calibration not only eliminates the need to calibrate your MiniCAT daily, this new configuration ensures the best possible image quality for your CT system.
Monthly Gain Calibration and Monthly QC
Xoran's valued customers can rest assured that the image quality and maintenance of their system is in safe hands. With Xoran's new recommended guidelines, Gain Calibration and QC are combined into one easy process.
Automated Reporting within the Software
Now you can automatically generate your QC Report Table within your MiniCAT software.
With a few mouse clicks, you can save a PDF or print your report, making document generation for your IAC Accreditation or Re-Accreditation application even easier.
For Gain Calibration, follow the same step-by-step process you are used to, but now just do it on a monthly schedule!
Contact Xoran Customer Service 800-70-XORAN to inquire about eligibility for the 5.9 Software Release, training, and software installation.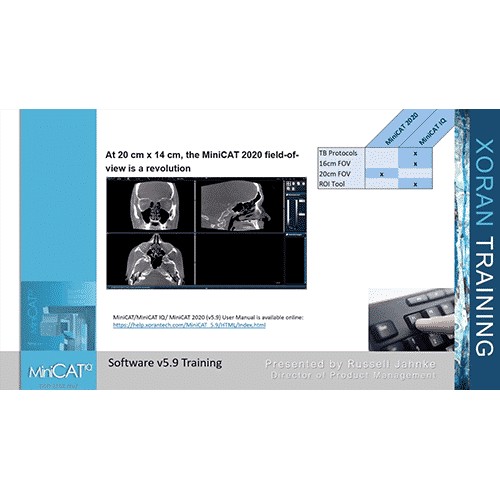 * Call Xoran Customer Service at 800-70-XORAN for eligibility.