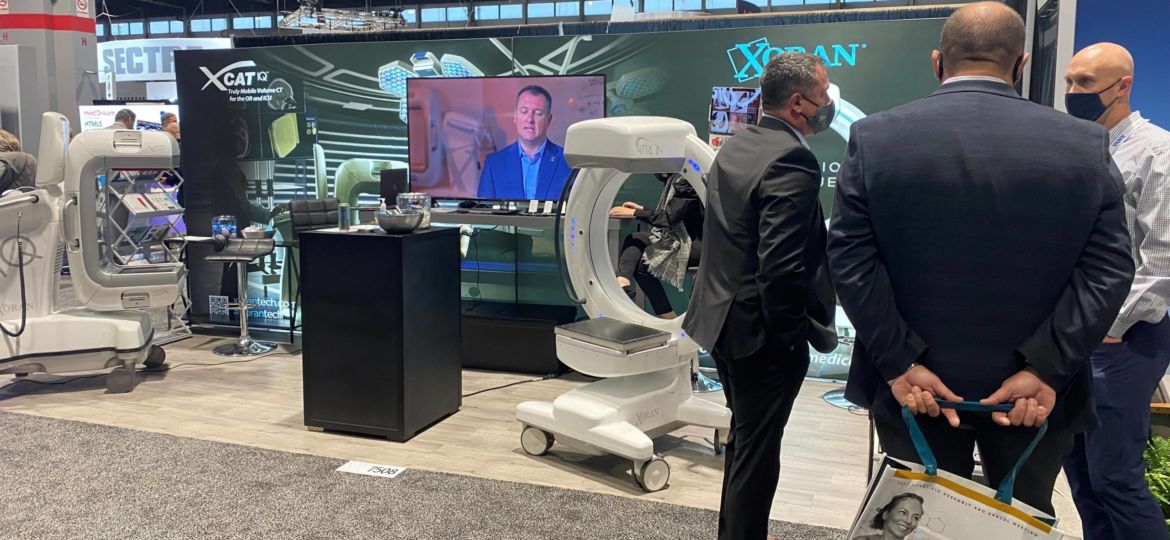 ANN ARBOR, MI, December 1, 2021–Innovation continues at Xoran Technologies and RSNA attendees have been flocking to booth 7508 to learn more. Xoran was recently awarded a grant from the National Heart, Lung, and Blood Institute (NHLBI) of the National Institutes of Health (NIH) to support the company's research and development efforts for lung computed tomography (CT) imaging.
Leveraging its knowledge and experience in the field as the pioneer and medical market leader in cone beam CT, Xoran has proposed TRON—an open-bore, truly mobile CT to assist in the identification of lung disease as a part of the grant. In addition, Xoran has established collaborative partnerships with specialists in Pulmonary and Critical Care Medicine and Radiology at the University of Michigan, Ann Arbor.
With the xCAT IQ™—an FDA 510k-cleared mobile CT system for bone and brain imaging, Xoran has shown capability in point-of-care (POC) CT solutions for the intensive care unit (ICU) and the operating room. Now with improved image quality for better neurosurgical visualization, the xCAT IQ quickly and easily rolls up to the patient table for fast scanning, providing real-time updates on patients' condition.
Also showcased is Xoran's latest addition to its mobile CT suite: the vTRONTM, an open bore 3D CT, released for veterinary sale in 2021. Key features of the vTRON are the large open-bore gantry and small footprint, making it easy to implement in companion animal hospitals.
Earlier, Xoran also announced it received a grant focused on integrated intraoperative imaging with surgical navigation from the National Institute of Health (NIH) and the National Cancer Institute (NCI) through the Small Business Initiative Research (SBIR) project. The funds are facilitated by a matching grant from external investors, Decathlon Capital Partners.
Innovation continues at Xoran. The xCAT IQ and vTRON are on display at RSNA in Chicago at booth 7508 from November 28 – December 2. Missed RSNA? Contact us at info@xorantech.com to learn about our exciting products and new projects.
###
About Xoran Technologies  
Since 2001, Xoran is the pioneer and medical market leader in low-dose radiation, cone beam CT systems specifically designed for the patient's point-of-care. Providers around the world rely on our industry leading MiniCAT™, xCAT™, and veterinary CT systems: VetCAT and vTRON, to diagnose and treat patients.  
Xoran is based in Ann Arbor, Michigan.  
For more information visit www.xorantech.com/  
© 2021 Xoran Technologies, LLC  

Media Contact
Aramide Boatswain
+1.734-709-0464
info@xorantech.com