Take Advantage of Xoran's Special Financing Offer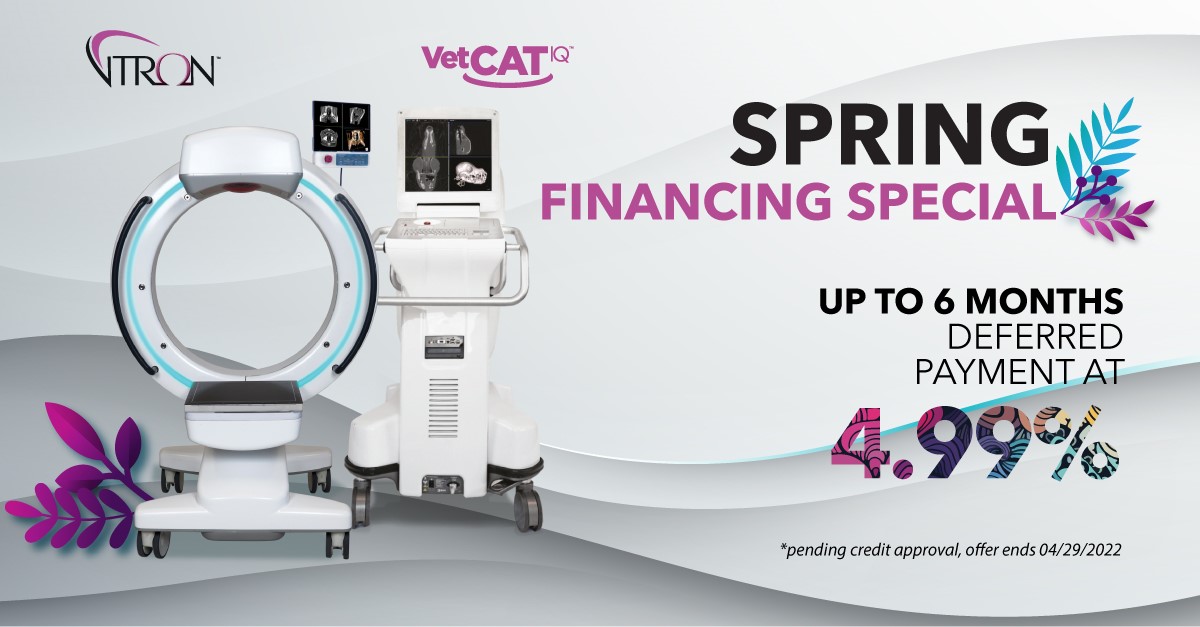 Xoran is offering a spring financing promotion through the month of April. Purchase today at a special rate of 4.99%, which includes deferred payment options (for 3-6 months) through Highland Capital. Lock in your rate today! Contact your Xoran sales representative for details and take advantage of this special offer.*
*pending credit approval, offer ends 4/29/2022.
5 Features to Consider Before Purchasing a Veterinary 3D CT
Workflow: Xoran's truly mobile CT streamlines your workflow by enabling you to diagnose your patients during exams, avoiding delays caused by outsourcing CT. Fast and easy-to-use, VetCAT and vTRON rolls directly to your patient for CT scans on demand. Scans take 20 seconds and images are available for immediate review.
Image quality: 3D imaging allows you to see the entirety of your patient's anatomy from all angles exposing pathologies that may be hidden in standard 2D X-rays. Xoran's imaging technology delivers industry best, ultra-high resolution CT scans at 70 microns.
Fit & Functionality: With its compact size and zero-turn capability, VetCAT and vTRON clears standard doorways, accommodates tight spaces, and is easy to access when you need it and store away when you don't.
View Scans Anywhere: XoranConnect gives you remote access to your CT scans via secure cloud storage and backup —which also supports remote teleradiology service and evaluation.
Certified Service & Training: VetCAT and vTRON are intuitive, user-friendly, and easy-to-use. Xoran provides thorough training on your new CT system which comes equipped with first class, personalized customer service.