VetCAT CBCT Identifies Issue Not Visible on 2D Radiographs
Oliver is a 16-year-old male neutered Yorkie. Oliver was diagnosed by his regular veterinarian with vestibular disease a year ago and has a persistent head tilt. He recently started licking the floor, an unusual behavior for him. Oliver's regular veterinarian decided that there was a likelihood that this new behavior was the onset of some dementia and prescribed Selegiline to aid the symptoms.
Oliver is a regular patient of Sue McTaggart, DVM, FAVD, for his dentistry and came to visit her for his regular dental check-up. Although Dr. McTaggart has had her VetCAT for some time, Oliver's mom didn't want the extra expenditure of the cone beam CT.
This visit was different, however. With the onset of Oliver's vestibular disease, Oliver's mom was interested in learning more and approved the cone beam CT this time.
The VetCAT told Dr. McTaggart two things that she wouldn't have known otherwise:
Oliver had notable lucency around retained roots distal to tooth 104, which did not show on the 2D radiographs
Oliver had significant middle ear disease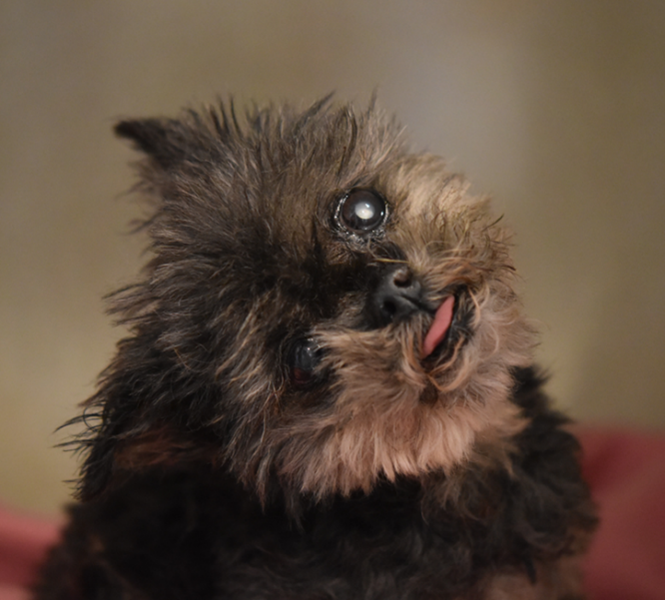 Treatment Outcome 
The 2D radiographs did not show the concerning area around the retained teeth at all, without the cone beam it would have been missed. Dr. McTaggart was able to identify the area of concern with the VetCAT. She extracted the retained roots and curetted to ensure there would be no further issues.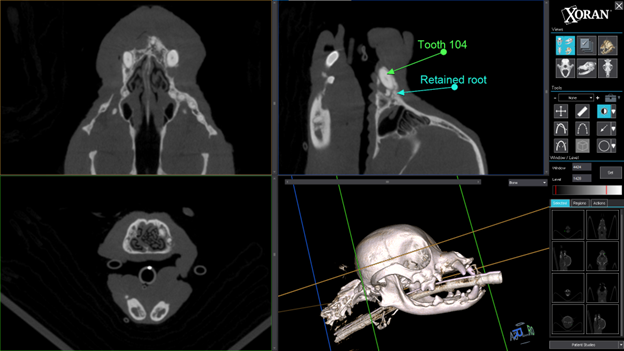 A 2020 study from the Journal of Veterinary Internal Medicine found that 49% of cases sent to a referral center for vestibular disease had otitis media, and they also note that many owners do not pursue advanced imaging to determine the cause of vestibular disease and instead treat symptomatically.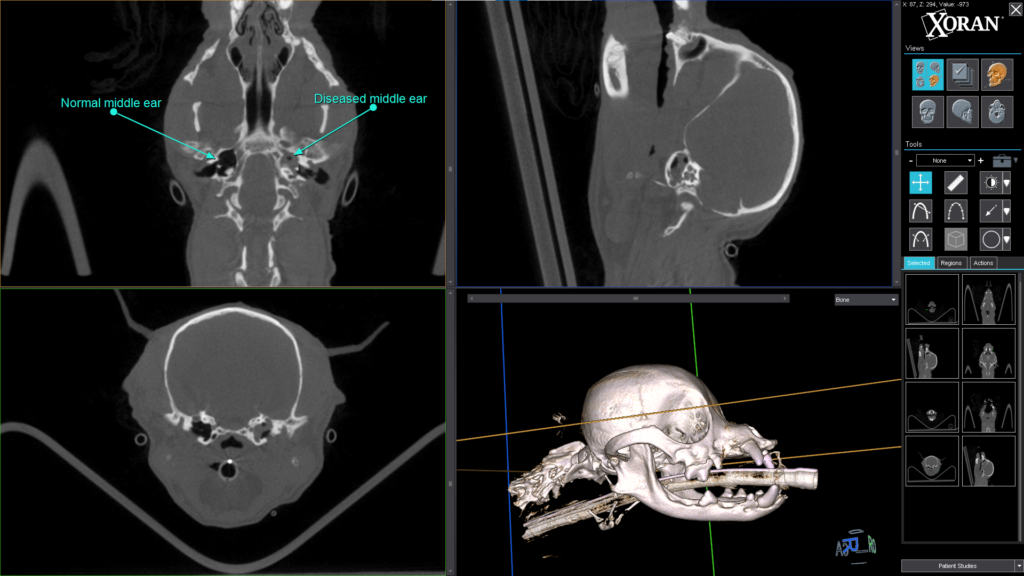 Conclusion
In humans, otitis media is profoundly painful, and can also cause a sore throat and muffled hearing. Although Oliver is of advanced age, it's possible his floor licking has more to do with discomfort than senility, especially considering that the Selegiline has had no noticeable effect.
Dr. McTaggart started Oliver on antibiotics immediately for the otitis media, and as of a few days after his appointment Oliver's owner reports his head tilt is improved, he's less clumsy, and able to go up the stairs on his own.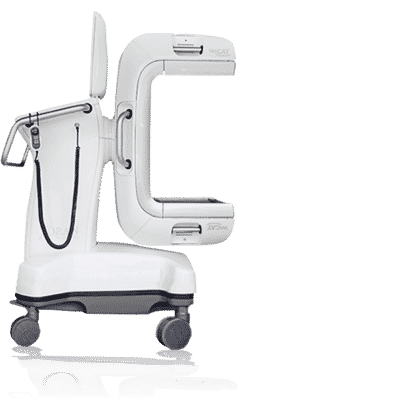 Curious how Xoran's point-of-care CT can assist you in your animal hospital? Take a closer look at the advanced diagnostic imaging of the VetCAT IQ and discover how you can see and do more with the addition of CT in your office.
Review courtesy of: Sue McTaggart, DVM, FAVD